Clearwater Divorce Attorneys
Family Law Lawyers in Clearwater, Florida Since 1997
If you are looking for a top notch female Clearwater divorce attorney or need a Clearwater family attorney to help in other family law matters, then look no further.  Our legal staff and attorneys are dedicated to providing simply the best representation for our clients.  Each of our attorneys has at least 15 years experience exclusively in divorce and family law and our legal staff have been with the firm for over a decade.  Two of our attorneys are also certified family law mediators.  We work in a professional yet friendly environment and as a team.  It is important to us that we are responsive to our clients and work with each of them to achieve the best result possible.  Furthermore, we encourage our clients to inform us if they have questions so we can keep them advised of their situation.  Legal matters can be perplexing and frustrating to those who do not have experience with the procedures involved.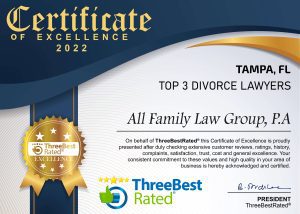 Our preference is to resolve the case amicably, if this is at all possible, and to the benefit of our clients.  Sometimes it is the easier and less expensive route; however, it may not always be the best route.  It may be necessary to litigate some issues of the case in a final hearing before the court, while resolving other issues in an agreement.  It depends on the projected outcome of the results if a judge decides.  Each case needs to be reviewed individually to determine what is the best way to go under the circumstances.  However, if litigation is necessary our attorneys and legal staff have extensive positive and successful trial experience and we always represent our clients zealously.
Google Review 82 Reviews/4.7 Star:  Mission accomplished quickly and efficiently! Thank you to everyone at All Family Law for their excellent work and attention to me. Also, Monica for her excellent representation of me throughout the divorce. I highly recommend this law firm as their assistance in helping me during my divorce was the best and made a tough process easier!  Marie Unell
Check out these other areas of law in which we practice:
Do You Need a Clearwater Divorce or Family law attorney?
Our Clearwater divorce attorneys offer a family law free consultation.  Call us at 813-672-1900, text us at 813-543-8960 or email us to schedule a time to talk and learn about the options available to you.  We appreciate your interest in our law firm and we look forward to speaking with you!  Se habla Español.