C. Christine Smith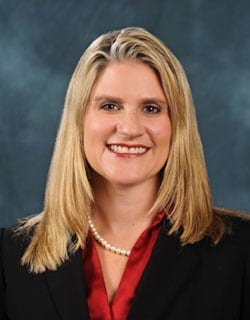 Christine Smith is a native of California, moving to Florida in 1984. She earned her Bachelor of Science in Information Technology from the University of South Florida, with high honors in 1996. Christine worked for Verizon for eight years as a beta tester, computer programmer, and business analyst.
In 2006, Christine graduated with honors from Stetson University College of Law, joining the L. David Shear Children's Law Center of Bay Area Legal Services, a non-profit law center dedicated to providing legal representation for abused, neglected, or abandoned children.  In 2011, Christine joined the firm of Hernandez & Smith, P.A. as a partner focusing on family law and business litigation.
Christine is a member of various professional organizations.  From 2008-2010, Christine served on a state-wide work group dedicated to removing barriers to medical benefits for Florida's foster children.  Christine was a member of the Hillsborough County Bar Association's (HCBA) Leadership Institute for the year 2009-2010, and served as the chairperson of the executive committee for 2010-2011.  Christine served on the Youth Projects Committee for the HCBA Young Lawyers Committee for two years and served as Secretary of the HCBA from 2012-2013.  Christine was a member of the Ferguson-White Inn of Court from 2011-2013.
In the community, Christine has helped organize several events for foster children including toy drives, Christmas parties, and Steak and Games field days.  Christine served as a member of the Board of Directors for Unity in the Community (2011-2013), a Plant City charity.  Currently, Christine is a member of the Board of Directors for the Pregnancy Care Center in Plant City.
In 2010, Christine appealed an unfavorable decision on behalf of two surviving siblings of a murdered child along with the Attorney General's office, receiving a published favorable opinion from the Second District court of appeals, creating precedent for similar cases.