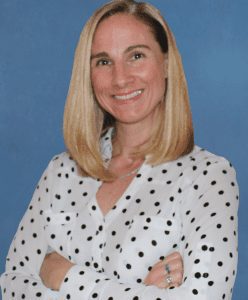 Wendy McGinnis is an extremely knowledgeable family law attorney with exceptional negotiating skills having practiced marital and family law in Florida for almost 20 years. She graduated from the University of Delaware in 1996 with a Bachelor of Arts degree in Political Science and a minor in French. After college, Wendy worked as a paralegal at a prominent insurance defense firm in New York City before attending Seton Hall University School of Law in Newark, New Jersey. During law school, Wendy concentrated on family law and adoption law and gained further legal experience as a law clerk at a New Jersey law firm.
She obtained her Juris Doctorate in 2000 and promptly moved to Florida and was admitted to the Florida Bar in 2001. Wendy has worked in private practice since 2001 exclusively in marital and family law representing clients in various family law matters across Central Florida.
She became a Supreme Court Certified Family Mediator in 2009 and has also been appointed as a Guardian Ad Litem in family law cases in Polk County and Hillsborough County. Wendy has been a member of the Hillsborough County Bar Association and the Brandon Bar Association since 2008 and has also held memberships at the Polk County Bar Association and the Greater Brandon Chamber of Commerce.
Wendy is an active member of her community and has volunteered her time as a Girl Scout troop leader and board member at the local youth soccer league in Brandon and has participated in many annual charity races. In her free time, Wendy enjoys spending time with her husband and four children cheering on the Tampa Bay Lightning and supporting UF and FSU (her house is divided).