Ruskin Divorce Attorneys
Family Lawyers Serving Ruskin, Florida Since 1997
Our Ruskin, Florida women divorce attorneys and family lawyers have extensive experience successfully representing men and women for over two decades. Our loyalty lies with our individual clients. Full stop!  Together we have over 60 years of experience exclusively in family and divorce law having served thousands of clients. We offer a divorce or family free consultation with one our Ruskin divorce lawyers to discuss your situation and the options available to you. As well as our legal staff have many years experience.  We all strive to be as responsive and informative as possible and to treat each of our clients on an individual basis.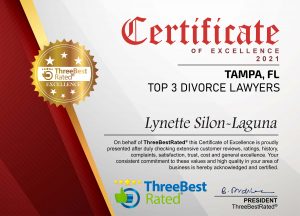 In addition, a divorce may include resolving issues of timesharing and decision making of the parties' children, child support, and parenting plans. These are also issues which involve parents who are not married.  If parents are not married, then especially the father would have to file a paternity action to obtain legal rights to the child, as being on the birth certificate is legally insufficient. We also practice in name changes, stepparent/relative adoptions and Chapter 7 bankruptcy.  Chapter 7 can include personal and business bankruptcies.  In addition, to these family law areas of practice, we have substantial practice in criminal defense law.
Also, see our blog, video FAQs and divorce FAQs for more information.
Our fees are reasonable considering our vast divorce, family law and criminal defense experience. Furthermore, our goal is to resolve your case as quickly as possible; however, we want settle only if it is a good outcome for you.  It is always best to resolve your divorce or family law matter amicably, if at all possible.  Sometimes, however, it is beneficial for you to go before the court and let the judge decide; however, only if doing so is in your best interest and financially beneficial. And if it is necessary to go to trial, our attorneys have substantial experience in successful litigation before the court. It could be possible to resolve some of your issues prior to the trial and only litigate on those upon which you cannot agree.
Do you need a Top Notch Ruskin, FL Divorce or Family Law Attorney?
So if you are looking for an attorney who practices in these areas of the law, then look no further.  Call us at 813-672-1900, email or text us at 813-543-8960 us to schedule a free divorce, family consultation to speak with a skilled, experienced divorce and family law attorney. We will respond to your call or email at our earliest opportunity. Se habla Español.