5 Frequently Asked Questions About Divorce In Tampa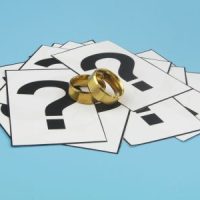 Everyone understands the basic concept of divorce. It is a legal process people must go through when they want to formally end their marriage. While the concept of divorce is fairly straightforward, there are many legal issues that can arise that people are not as familiar with. If you are going through a divorce, or you are considering it, you probably have a lot of questions. Below, our Tampa divorce attorney outlines the five most common questions we hear, as well as the answers to them.
Can My Spouse and I Get Legally Separated Instead of Divorced?
Legal separations are not recognized under Florida law. When a married couple has not yet obtained a formal divorce, they are still considered legally married, even if they no longer live together and have physically separated. Still, there are many reasons people do not want to get a divorce. For example, a couple may not want to divorce due to religious reasons. In these instances, a postnuptial agreement can outline certain terms, similar to those in divorce, so your interests are protected.
How Do I Start the Divorce Process?
All divorce cases start when the petition is filed with the court. A divorce petition essentially tells the family court that you are legally married and that you want to dissolve the legal union. After one party files the divorce petition with the family court, the other spouse is then served with the paperwork, informing them that the divorce process has started.
Can I Divorce My Spouse if I Cannot Locate Them?
The divorce process is always easier if you know where your spouse is located. There are times, though, when a person wants to get a divorce but cannot find their spouse. In these instances, Florida law does provide an option for getting divorced by publication. To get a divorce using this method, you must publish notice of the divorce in a local newspaper where the spouse was last known to live for two consecutive weeks. Once that time expires, the publication is considered service, or notice, to your spouse, and the Notice is filed with the Court.  There are certain requirements on the publication, so it is always important to speak to a Tampa divorce attorney before publishing.
Do I Have to Attend Mediation with My Spouse?
In most Florida divorce cases, the couple must attend court-ordered mediation before taking their case to trial or to a temporary hearing. This is true for all family law cases in Hillsborough County, in particular.  Mediation helps alleviate the backlog of the courts and allows the couple an opportunity to compromise and negotiate so they can reach an agreement on the terms of the divorce. Mediation sessions often include both parties, the lawyers representing them, and the mediator. However, you and your spouse can also meet with a mediator separately if the conflict between you is high.  Also, currently most mediations occur via Zoom video.
Do I Need a Divorce Attorney in Tampa for Mediation?
You are not required to work with a Tampa divorce attorney; however, it is always recommended that you do, especially as the mediator cannot give legal advice to the parties and you want to make sure that you make sure you get it right. At All Family Law Group, P.A., our seasoned family attorneys can help you resolve the disputes in your case while making sure your rights are upheld throughout the entire process. Call us now at 813-672-1900 or contact us online to schedule a free consultation and to learn more about how we can help.  Se habla Español.
Sources:
leg.state.fl.us/statutes/index.cfm?App_mode=Display_Statute&URL=0000-0099/0061/0061.html
leg.state.fl.us/Statutes/index.cfm?App_mode=Display_Statute&URL=0000-0099/0044/0044.html