Florida Firearms FAQs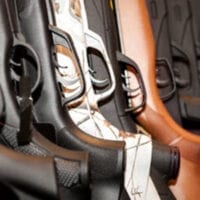 The Second Amendment gives all Americans the right to possess firearms, but the law is a bit more complicated than that. It is critical that all Floridians understand federal and state law fully, so they can comply with it and avoid legal trouble in the future. Below are some of the most frequently asked questions about the laws on firearms in Florida, and the answers to them.
Do I Have to License and Register My Firearm?
As long as you do not have a prior conviction and are of age to own a firearm, the laws on firearms in Florida are fairly relaxed compared to other states. You do not have to register or license your firearm, with the exception of certain weapons included within the National Firearms Act.
Can I Carry a Firearm in My Car Without a Concealed Weapon Permit?
Florida law grants individuals the right to carry a firearm in their vehicle, without a concealed weapon permit, as long as it is securely encased and is not easily accessible for immediate use. Unlike other states, Florida does not require a two-step or three-step process to use the firearm. Simply keeping the firearm in your glove compartment could meet the requirement of keeping it encased and unavailable for immediate use.
How Can I Restore My Rights if I Have Been Federally Convicted?
If you have been convicted of a federal firearms offense, the only way to restore your rights is to seek a Presidential pardon. The law stems from the case United States v. Bean 537 US 71I, which was heard by the United States Supreme Court in 2002.
How Can I Restore My Rights if I Have Been Convicted in the State?
If you have been convicted of a firearms offense by the state of Florida, you have two options to restore your rights. The first, and most common, is to petition for the right to own, possess, and use firearms. You will need the form of restoration of civil rights and you can only obtain this form eight years after you have completed your sentence, probation, restitution, and have paid any fines related to your conviction. The second way to restore your rights is to apply for executive clemency through the government.
Can My Spouse Own a Firearm if I Have Been Convicted of a Felony?
Crimes in Florida are classified as a misdemeanor or a felony, with felonies being the most serious. The penalties associated with a felony conviction are severe, and one of them is that convicted felons are banned from owning a firearm in the future. Unfortunately, this includes the spouse of convicted felons.
When the spouse of a convicted felon owns a firearm, it is considered constructive possession because you could easily obtain and use the gun. The only way in which your spouse could own a firearm after you have been convicted of a felony is if they kept the gun in a locked safe and ensured they were the only one with the combination or key.
Our Florida Criminal Defense Lawyers Can Answer Your Questions
If you want to own a firearm in Florida, or have been convicted of a crime, you likely have lots of questions. At All Family Law Group, our experienced Tampa criminal defense lawyers can answer them and if necessary, help restore your rights. Call us today at (813) 672-1900 or contact us online to schedule a free consultation and to learn more about how we can help.
Resource:
loc.gov/item/usrep537071/