How Can A Lawyer Help when Divorcing a Difficult Spouse?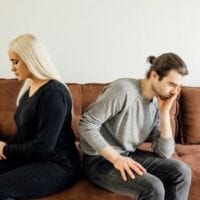 Divorce is difficult enough when the two spouses try to work together to come to the best possible terms. However, when one spouse is extremely difficult to work with, the entire process becomes even more challenging. When your spouse refuses to work with you, it is easy to think that the divorce will inevitably take a long time and cost you more money than necessary.
Fortunately, this is not true, but it will become even more important that you work with a divorce lawyer. An attorney will know how to deal with the issues that are more likely to arise when you are divorcing a difficult spouse.
Dealing with an Unpredictable Spouse
It is impossible to predict what will happen in a divorce case, but an unpredictable spouse can make it even more so. If a spouse is dealing with a mental illness or substance abuse problems, they may not show up at mediation sessions or important court hearings. A lawyer will advise on whether certain options such as mediation are right for you, or whether you need to go to court and let a judge decide how to deal with an unpredictable spouse.
Dealing with a Spiteful Spouse
It is not uncommon for a spouse to go through the divorce process feeling spiteful. Your spouse may blame you for the divorce and anything else that is going wrong in their life, and they may try to make the process as difficult as possible. A lawyer will know how to overcome these obstacles. For example, if your spouse is so spiteful that they stalk you or harass you, a lawyer will know how to obtain an injunction, or a restraining order, so the behavior does not impact your life on the same level.
Dealing with Parental Alienation
Parental alienation is one of the most hurtful things that can happen during and after divorce proceedings. When one spouse alienates a child from their other parent, they may tell them things that are untrue or take other actions to turn the child against the other parent.
The courts take parental alienation very seriously and a lawyer will know this. If your spouse tries to alienate your child from you, a lawyer will raise this issue in court and it may even work in your favor. For example, a judge may award your spouse less parenting time, and you more, when they have tried to alienate your child from you.
Dealing with a Deceptive Spouse
Spouses often try to hide assets and other information to gain a favorable outcome in court. When they do, a lawyer will know the tactics to use to uncover the information so the process is fair for both of you. For example, if your spouse hides assets, a lawyer can reach out to a forensic accountant that will uncover the assets so you receive your fair share.
Our Florida Divorce Lawyers are Here to Help with Your Case
Regardless of whether your spouse is going to cooperate during the divorce process or not, our Tampa divorce lawyers at All Family Law Group, P.A. can help. We know the tactics difficult spouses use to delay the process, and we also know how to overcome them so you can move forward in your new life as quickly as possible. Call us today at 813-672-1900 or contact us online to schedule a free consultation. Se habla Español.