How Can I Ensure Success In Mediation?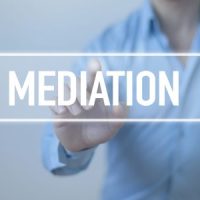 If you are getting a divorce in Florida, there is a chance that you will not have to face a lengthy courtroom battle. In the Sunshine State, mediation is often required to give couples a chance to reach an agreement on the terms of the divorce before they go to trial. Many people have never been to mediation until they get a divorce and so, they do not know what to expect or how to ensure success during these sessions. Below, our Tampa Bay family lawyer offers some tips that can help make sure mediation works for you.
Do Not Think About "Winning"
Mediation is not about winning and losing and if you go into sessions thinking you only want to win, you may not be successful. Mediation will work best if you and your spouse can meet civilly with each other, put aside the issues that resulted in your breakup, and focus on reaching an agreement that works for both of you.
Prepare Beforehand
You will need to provide full disclosure about all of your assets and liabilities and so, it is important to have this information before starting mediation. Make a list of all of your assets, as well as all of your debts so you are prepared for the division of property during divorce.
Make Your Kids the Priority
Divorce is not easy for anyone, but it is particularly hard on the children. To protect them from the divorce as much as possible, it is important to consider the traditions and routines the children enjoy, and try to preserve them as much as possible. For example, if you spent every Thanksgiving with your spouse's family during the marriage and visited your family on the Fourth of July, you may want to keep these traditions. If you offer to allow the kids to still visit your spouse's family every Thanksgiving, they will be more likely to grant you time with the kids every Fourth of July.
Be Honest with Yourself
It is important to think about your goals for mediation and what you want to get out of it. For example, you may want to settle the entire case, or you may just have one or two issues that you want to focus on. At the beginning of mediation, it is important to outline these goals with your spouse and the mediator. This can help ensure the sessions are as productive as possible.
Know When to Walk Away
Mediation has many benefits and if possible, you should try to reach an agreement during these sessions. However, you should never forfeit your rights and agree to something you are not happy with just to settle in mediation. If you cannot reach an agreement with your spouse, it is important to know when to walk away and take the case to trial where you can fight for what is yours.
Work with a Divorce Lawyer in Tampa Bay
Working with a Tampa divorce lawyer while going through mediation will ensure your rights are upheld and that you obtain the fair settlement you deserve. At All Family Law Group, P.A., our skilled attorney has the necessary experience to negotiate with your spouse and reach an agreement that is fair to everyone. Call us today at 813-672-1900 or contact us online to schedule a free consultation. Se habla Español.
Resource:
leg.state.fl.us/statutes/index.cfm?App_mode=Display_Statute&URL=0000-0099/0061/0061.html