How to Be a Successful Parent During and After a Florida Divorce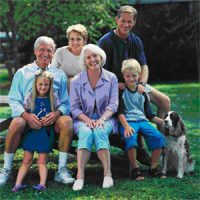 Becoming a single parent during and after a divorce may seem overwhelming at times. Worrying about whether you're giving your kids the attention and care they need while simultaneously managing all the hectic daily tasks can be challenging. It's important to know that there will always be highs and lows when it comes to raising a family, especially with going through a big change like divorce. Some days will be tougher than others, but by learning how to overcome these challenges and stay positive for the kids, you'll find success in parenting.
If you're looking for advice on how to navigate a Florida divorce and still successfully raise your children, continue below for guidance from a Tampa divorce attorney.
Create a Safe Space for the Kids
The most important thing to do for your children is to create a safe space where they feel comfortable communicating with you about their feelings. Letting them know that the divorce had nothing to do with them and that they're still very much loved is crucial. To help create a safe space, try planning fun things to do with your kids. Although your life's schedule is most likely hectic at the moment, try designating a few nights or weekends for fun activities to do together. Movie nights, taco or pizza nights, game nights, or taking a short road trip to a national park would be a great way to bond, as long as it's something that the whole family will enjoy partaking in.
You might also want to go above and beyond when it comes to listening to their thoughts and feelings. Perhaps at dinner asking everyone about their highs and lows of the day or week could be a great way to open up the floor for discussion. If you find your kids are struggling with the divorce, perhaps having them attend counseling for help with their anxiety or stress over the big family changes would be beneficial. Make sure to talk with them before signing up so they know it's a joint decision and not something that they have to do with no input on the matter.
Find a New Place to Start Fresh
Moving out of your current home may be tough for the kids, but it's important for you to start fresh in a new town or neighborhood after a divorce. It's no secret that buying a new home can be a headache at times, especially in the current market we live in today. But it doesn't have to add more anxiety or stress to your full plate already. If the divorce hurt your finances in any way and lowered your credit score, no need to stress. Consider looking into the FHA loan qualifications to see if this option is right for you when buying a home. FHA loans offer lower credit score requirements of 580 or higher, which can make it easier for you to get approved depending on your financial situation post-divorce. They also have shorter waiting periods to find out if you're qualified, which is beneficial if you need to find a new home to move into fast.
When searching for a new home, the location might become an issue depending on if your children are minors still. In the state of Florida, relocating your children can be complex. If your ex-partner does not agree with the relocation, you must fill out a petition to relocate your children in accordance with the law. You'll attend a court hearing where both parents will be present unless your ex-partner agrees to the relocation. This however may not be necessary if you still wish to keep your children in the same school district.
Find a Co-Parenting Method That Works
It's crucial for the well-being of your children that you and your ex-partner agree on a co-parenting method sooner rather than later. It can be a struggle to agree on child support and visitation at first. Start by setting a parenting plan that'll help with establishing the parties' time-sharing and parental responsibilities. It's important to note that these plans may need to be adjusted in the future, depending on circumstances.
Co-parenting is not always a walk in the park. But what most people don't know is that there are different ways to co-parent – both good and bad. Three co-parenting methods are:
Parallel parenting is when there's low conflict and communication with each other. Both households will operate independently and perhaps there's a lack of consistency.
Cooperative co-parenting involves joint planning, flexible schedules, and parental support. There's rarely conflict and if so, both parents will work together to find a solution respectfully.
Conflicted co-parenting is likely the worst method because it typically means there are frequent arguments, disagreements, and no communication or respect between one another.
There's always room for improvement when it comes to co-parenting. Remember, it's for the well-being of your children that you can resolve conflict respectfully and work as a team to successfully raise them.
Prioritize Self-Care
To become a super parent, you must take care of yourself too. You're also going through a big change in your life and you must spend time growing and caring for your needs to be in a healthy mindset. Self-care is not always the easiest thing to put first. Start by spending your alone time doing something that brings you joy or happiness. Perhaps that's reading more books, working out to improve your health, finding new recipes to try, spending time with family or friends, and exploring new hobbies that you never had time to try before. A few hobbies that might interest you are starting a garden, learning photography, practicing mindfulness, playing an instrument, or attending painting classes. No matter what you do, as long as you're taking care of yourself, you'll be more successful when it comes to caring for your children.
Our Divorce Attorneys in Tampa Can Help You Through the Process
Remember, divorce is challenging and it'll take time for things to become normal again. Using the advice above, will not only help you learn to become more successful at parenting, but it'll also guide you through taking care of yourself too. If you need legal advice or services, the experienced divorce attorneys at All Family Law Group, P.A. can help you with any legal matter regarding your children and the divorce and subsequent divorce legal process. Call us today at 813-672-1900 or contact us online to schedule a free consultation.  Se habla Español.