Tips For Living Together During Divorce Or Separation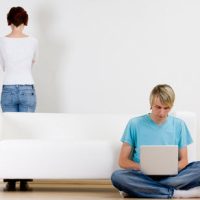 It is not always easy for a couple to find separate accommodations when they are going through a divorce. Couples sometimes need to wait until their marital home sells, or they are struggling with other financial challenges that make moving out impossible. In the best of cases, the impending divorce is amicable enough that the couple can continue living together for at least a couple of more months. If you are thinking about living with your spouse during the divorce process, below are some tips that can help prevent it from becoming a combative situation.
Create Two Different Budgets
Arguments about money are always one of the main reasons for divorce, so it is important to handle the issue of different budgets carefully. Talk to your spouse about the financial obligations you share and how you will divide them during the divorce process. If you both earn approximately the same income, you can simply split the cost of expenses equally. If one of you has a significantly higher income than the other, you may have to negotiate. In either case, it is important to have a written budget that allocates different responsibilities to each of you.
Think of Your Spouse as a Roommate
Even though you are still technically married, your relationship with your spouse has changed substantially once you decide to get a divorce. You may no longer share your income with your spouse, while they may no longer clean up the kitchen after you have cooked a meal. Determine who will be responsible for the household chores and as much as possible, try to keep things separate. For example, do not eat the food your spouse purchased for themselves, and always clean up after you use the kitchen, bathroom, or another common area.
Create a Parenting Schedule
Spending time with both of you together may actually be harder on your kids than if you spend time with them separately. Creating a time-sharing schedule that will benefit both of you and give you both as much time with the kids as possible. During the divorce process, a judge may also deem this time-sharing schedule fair and make it final, leaving you with one less task during the process.
Create Separate Living Quarters
Florida does not recognize legal separations, but you will still likely feel separated from your divorce as you approach the divorce process. It is important to keep your life as certain as possible. Create a different sleeping space for each of you, and potentially even a separate living space, if possible. It is very important not to become intimate with each other again during this time. Doing so will only make things more confusing and if one person starts to develop romantic feelings again, it will only make the divorce process more difficult.
Our Divorce Lawyers in Tampa Can Help with Your Divorce
By following the above tips and exercising patience, it is often possible for divorcing spouses to live together as they move through the process. If you are thinking about divorce and are considering living with your partner, our Tampa divorce lawyers at All Family Law Group, P.A. can advise on every aspect of your case. Call us today at 813-672-1900 or fill out our online form to schedule a free consultation.  Se habla Español.
Resource:
leg.state.fl.us/statutes/index.cfm?App_mode=Display_Statute&URL=0000-0099/0061/Sections/0061.13.html