What Mistakes Should I Avoid With My Premarital Agreement?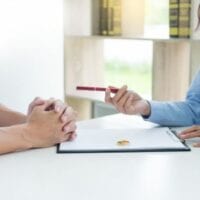 Premarital agreements are very popular today and when you have one, it can make the divorce process much simpler, if it ever becomes necessary. However, when you decide you need a premarital agreement, it is still important to do it right. If you make a mistake, the agreement may not be deemed enforceable by the courts, or you could end up without one at all. To ensure your premarital agreement offers the protection you hope for, avoid making the five mistakes below.
Being Afraid to Talk About It
It is natural to fear talking about divorce at the same time you are talking about marriage, but it is important. Divorce is always a possibility in any marriage, and now is the time to start talking openly and honestly with your future spouse. Communicate all of your concerns and fears with your partner, and make sure that includes financial matters, as well.
Letting Emotions Guide the Conversation
Marriage, divorce, and financial matters are all very emotional topics to talk about. However, when discussing them with your partner, it is important to try and keep your emotions out of it. If you can stick to the facts and talk calmly about money matters, it will lay a strong foundation that can help both of you make good financial decisions tomorrow.
Waiting Too Long to Draft One
When a couple drafts a premarital agreement, each party must enter into it willingly. If a judge thinks one person signed it while under duress, they will likely not uphold it. To avoid this misconception, it is best to draft a premarital agreement as soon as possible. While there is not a technical timeline, the general rule of thumb is that you should draft the agreement soon after the engagement and before you send out the wedding invitations.
Not Disclosing All of Your Assets and Debts
Premarital agreements do not only deal with the assets you both have, but also the debt you are bringing into the marriage. Another requirement of premarital agreements in order for them to be enforceable is that each party must have fully disclosed all of their financial information. If you get a divorce and it is later found that either of you were not completely open and honest when drafting the agreement, a judge could deem the entire agreement as unenforceable.
Enlist the Help of a Family Lawyer in Florida
A Tampa family lawyer will know what to include in your premarital agreement, and what not to include, so the courts deem it enforceable. At All Family Law Group, P.A., our knowledgeable attorneys can help you draft an agreement that will protect your rights and assets, and that will be enforced by the courts when necessary. If you are about to get married and need a premarital agreement, call us today at 813-672-1900 or fill out our online form to schedule a free consultation and to learn more about how we can help with your agreement.