When are Couples in Florida Most Likely to Get Divorced?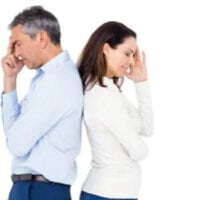 For the past several years, Florida has had one of the highest divorce rates in the country. The divorce rate in Florida is 13.2 percent, which is the fourth-highest in the country. While there may be many reasons that lead to divorce, when are couples most likely to do it? As it turns out, there are a few times in life when a couple is most likely to end their marriage.
Couples Often File for Divorce in Their Late Forties
It is not uncommon for couples to get divorced in their late forties, typically because this stage of life brings about many other changes, as well. Couples often get married in their late 20s or 30s, and have children a few years after that. The next ten to twenty years are spent working and raising a family. Once a couple reaches their late 40s, the children move out of the home and one or both people in the marriage may start thinking more seriously about retirement.
Although these changes are exciting, they also sometimes lead to couples thinking about other changes, as well, such as divorce. By the time a person reaches their late 40s, they have worked for decades and are often quite stressed. It is not uncommon for people to want to start with a totally clean slate, which may include ending their marriage.
Many Couples Divorce After Eight Years
The 'seven-year-itch' has been around for decades and it seems as though it is still very prevalent today. Throughout the country, the average length of a marriage is 8.2 years, which may mean that people start considering divorce at around the seven-year mark. Many marriages do not even make it that long. Infidelity is most likely to occur within the first two years of marriage, which is one reason ten percent of marriages end in divorce during that time. That is the highest rate of divorce for all couples.
Gray Divorces are Becoming More Common
While many couples may divorce when their marriage is still relatively new, others wait much longer before ending their marriage. Gray divorces, or those that occur when couples are over the age of 50, are becoming more common. In fact, gray divorces have doubled since the 1990s, and the rate of couples over the age of 65 getting a divorce has tripled in that same amount of time.
The trend of gray divorces is on the rise for many reasons. One of these is because people are waiting to get married later in life and so, they get divorced later in life, as well. People are also living longer and so, they are more eager to get out of an unhappy marriage because they still have a lot of life to live. Couples that are in their 50s and 60s are also more likely to have been married before, and second and third marriages are much more likely to end in divorce than first marriages.
Our Family Lawyers in Florida Can Help with Divorce at Any Age
Regardless of when you are considering divorce, you should enlist the help of a Tampa divorce lawyer Tampa Divorce Attorneys that can help with your case. At All Family Law Group, P.A., our experienced attorneys can assist you with the divorce process and help you secure the fair settlement you deserve. Call us today at (813) 672-1900 or fill out our online form to schedule a free consultation with one of our knowledgeable attorneys. Se habla Español.
Resource:
theapopkavoice.com/why-is-the-divorce-rate-in-florida-so-high/