When to Consider a Prenup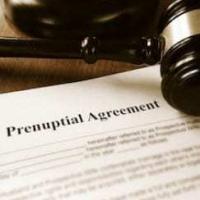 As people are routinely getting married later in life, they bring more assets into a marriage they may want to protect in the event of divorce. Further, it is now more common to have children outside of wedlock, leading to some newlyweds to have children from previous relationships who need consideration as well. These situations are a few examples of when a prenuptial agreement is especially important and should be prioritized before marriage. Thinking the relationship may not work is not pleasant or optimistic, but the alternative is often even less desirable, as litigating these issues in divorce may lead to the loss of property in equitable division that a spouse was highly invested in keeping, or the payment of support the spouse resolutely wants to avoid. Settling these issues before the divorce not only makes the process simpler and less expensive, it also makes it easier to negotiate other issues, since some of the matters are already settled. Prenuptial agreements are normally associated with the very wealthy and not considered worthwhile for the average couple entering into marriage. It is true these agreements perform an important service for those with a lot to lose, such as Hilary Duff, who recently became engaged. However, even couples with average means can benefit from these agreements.
Who Should Consider a Prenup?
Anyone with something to lose or dependents they want to protect needs to consider a prenuptial agreement. Specifically, a person with assets or property, particularly a business, children from a previous relationship, or personal liabilities they do not want the new spouse to assume needs to look at a prenuptial agreement. These agreements lay out the rights and responsibilities of each party and allow them to negotiate keeping separate property out of the marital pot and deciding how debts will be divided in advance of divorce, which are the two primary issues these agreements tend to address. These two issues can consume a divorce case, so getting them out of the way from the beginning will avoid arguments later. Further, if a person has children from a previous marriage or property he/she wants to stay in the immediate family, the prenuptial agreement should include provisions that preserve the right of the child and other family members to inherit from the estate, which could involve asking the other spouse to waive certain spousal election rights to facilitate this arrangement. Finally, if one spouse earns considerably more, a prenuptial agreement can address spousal support in advance and limit the other spouse's right to request it.
What It May Include
As a good rule to avoid unnecessary legal entanglements, the contents of a prenuptial agreement should be limited to financial and inheritance issues. These generally include who gets to control, transfer, sell, or dispose of specific items of property, as well as how property will be divided in the event of divorce. In addition, as noted above, rights to spousal support may be included, and how death benefits from an insurance policy should be treated. By contrast, delving into terms that relate to children and their support or childcare will not be recognized by the court, as these issues are specifically prohibited from the terms of prenuptial agreements. Anything illegal is also not permitted in the prenuptial agreement and could void part or all of the contract. The rights and responsibilities established in prenuptial agreements have far-reaching consequences and should be reviewed by an attorney before anything is signed.
Talk to a Florida Family Law Attorney
Getting married is an exciting time, but practical considerations should also be a part of this process. If you have questions about a prenuptial agreement, talk to the experienced family law attorneys at All Family Law Group, P.A. about whether this agreement is right for you. Protecting your interests from a possibly contentious divorce is frequently a good approach to avoid unnecessary complications, and our attorneys are here to help you achieve your goals. Contact the Tampa prenuptial agreements attorneys and family lawyers at All Family Law Group, P.A. in Tampa Bay for a free consultation. They can be reached at 813-672-1900.
Resource:
nbcmiami.com/entertainment/entertainment-news/Hilary-Duff-Engaged-to-Matthew-Koma-509695652.html