Why Do So Many People In Florida Divorce In January?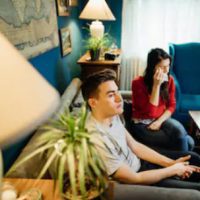 It is a sad fact that January is often referred to as "divorce month" in the legal community. Truthfully, the family courts do generally receive more divorce petitions during the month of January, and this month in particular is a very busy time for divorce attorneys. If you are currently thinking about ending your marriage, it is important to know that you are not alone. Below, our Tampa divorce attorney explains why so many couples choose this time of year to dissolve their marriage.
New Year, New Chapter
Towards the end of the year, many people start taking stock of their life. They may examine their accomplishments, things they wish to improve upon, and the choices they have made. In some instances, people may feel as though it is their marriage that is holding them back from being completely happy. It is very similar to the reasons why gym memberships skyrocket in January, as many people make resolutions to lose weight. Still, the New Year itself is not the only reason people choose this time of year to divorce.
The Holidays are Over
Many people know that they want to get a divorce long before the holiday season hits. Still, they may wish to give their family one last memory of a good Christmas and holiday season. This is particularly true when a couple is divorcing and they have children together. Once the holiday season is over, the parents then have no reason not to continue with divorce proceedings.
The Stress of the Holidays
The holidays are a very stressful time for families, particularly when the heads of the household are considering divorce. With the holidays come familial obligations and stressors on the family's finances and they can all wreak havoc on a marriage. When a spouse or couple is considering divorce before the holiday season even starts, it can actually drive people further apart rather than bring them together.
Reconnection with a Support System
When a person is thinking about ending their marriage, it can be a very lonely time. A person may think the only real support system they have is their spouse, and that it is not possible to reach out to them. As a person visits with their extended family during this time, they may reconnect with their support family. They may spend more time with family members and friends they have not seen in a long time, and be reminded that they are not, in fact, going to go through anything alone. That reassurance is sometimes enough to start divorce proceedings.
Call Our Divorce Attorney in Tampa Today
If you are thinking about ending your marriage, you need sound legal advice. At All Family Law Group, P.A., our Tampa divorce attorney can provide it so you can make the best informed decisions moving forward. Call our experienced attorneys today at 813-672-1900 or reach out to us online to schedule a free consultation and to learn more about your legal options and how we can help with your case.  Se habla Español.
Source:
leg.state.fl.us/statutes/index.cfm?App_mode=Display_Statute&URL=0000-0099/0061/0061.html