Can A Divorce Be Denied?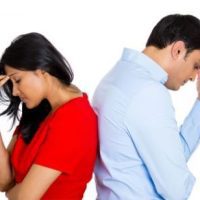 There are many complications that can come up during the divorce process. The last thing you want to worry about is whether your divorce can be denied and the process stopped altogether. If you are the one starting the divorce process, your spouse cannot stop it from happening. Although they can make it more difficult and draw out the process, they cannot completely prevent it. However, judges do have the authority to deny a divorce and may do so in very rare cases.
Spouses Cannot Refuse a Divorce in Florida
Florida is a no-fault divorce state, which means when filing, you do not have to accuse your spouse of being at fault for the breakdown of the marriage. You also do not have to prove they were to blame. You must only state that there are irreconcilable differences between you and your spouse. This is to say the marital relationship has broken down and that there is no chance of reconciliation.
In Florida, you must serve your spouse with the divorce papers after you file them with the court. You will have to ask the county sheriff to do this or hire a process server. If your spouse refuses to sign the divorce papers, a judge may grant you a default divorce. There are actually some advantages to this, as you can typically request the judge to grant certain terms of the divorce, such as alimony. If your spouse is not there to defend against those requests, a judge may approve the terms you asked for with little hesitation.
Judges Can Deny a Divorce
Due to the fact that Florida is governed by no-fault divorce laws, a judge cannot consider fault when deciding whether to grant a divorce. However, they may in very rare instances deny a divorce. A judge must sign a divorce decree before the dissolution is considered legal and in most cases, this is just a formality. There are times though, when a judge may decide not to sign a divorce decree, preventing the divorce from happening.
If a judge denies a divorce from proceeding, it is usually because they think the marriage may still be saved. Judges are typically more likely to deny a divorce when they think a couple can save their marriage and the two parties have children together. In these cases, a judge may order marriage counseling instead of granting the divorce. Still, this happens in only the rarest of cases and judges do not normally stand in the way of couples who no longer want to be married.
Our Divorce Lawyers in Tampa Bay Can Help with Your Case
If you wish to dissolve your marriage, our Tampa divorce lawyers at All Family Law Group, P.A., can help ensure the process goes as smoothly as possible. We know the challenges the divorce process can present, and how to overcome them so you can move forward in your new life as quickly as possible. Call us today at 813-672-1900 or fill out our online form to schedule a free consultation and to obtain the sound legal advice you need.  Se habla Español.
Resource:
leg.state.fl.us/statutes/index.cfm?App_mode=Display_Statute&URL=0000-0099/0061/0061.html