Can You Relocate Your Child After Divorce?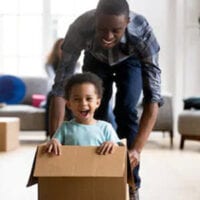 Divorce will change your entire life, but it will not stop there. After all, the only constant in life is change and at some point in the future, an event may occur that affects your divorce decree. One of the most common life changes after divorce is relocation. People sometimes want to move back to their home state to be closer to family, or people have to move for a new job.
Moving is a major life change and the further you move, the bigger the change becomes. Before you make a decision or plans for your future, you should review your divorce decree and know the law in Florida on parental relocation with a child.
You Must Petition the Court
If there are child custody arrangements in place or a parenting plan has been created, you will need to file a petition with the court if you want to relocate with your child. Florida considers any move further than 50 miles away from a person's current residence a relocation. If your former spouse does not agree to your child relocating with you, the court will have to intervene.
If a parenting plan is not in place, you may not be legally required to petition the court for relocation. Still, it is recommended that you do, or the other parent may try to file for child custody. A judge may not look favorably on you if you relocate with your children without the other parent's consent and the court may issue an order in their favor.
You Face Serious Repercussions Without Court Approval
Parents are sometimes tempted to take matters into their own hands and relocate with their child without the approval of the court or the other parent. This is a mistake. Relocating with your child without permission to do so could result in you being found in contempt of court. This can result in penalties such as being required to pay the other party's attorney fees, attendance in court-ordered counseling, and permanent changes to your parenting plan that result in a forfeiture of custody rights.
Terms to Include in a New Parenting Plan
Although there are instances in which the other parent may dispute the relocation with the child, this is not always the case. If your ex agrees to the move, you will need to create a new parenting plan. This agreement should be in writing and should detail the schedule for parenting time after the relocation. Transportation arrangements should also be included in the new plan. After creating your new parenting plan, you will have to submit it to the court for judge approval.
Our Child Custody Lawyers in Tampa Bay Can Help with Your Relocation
If after divorce, you want to relocate with your child, our Tampa child custody lawyers at All Family Law Group, P.A. can help you through the process. We can assist with your petition to the court, help create a parenting plan, and give you the best chance of a successful outcome. Call us today at 813-672-1900 or fill out our online form to schedule a free consultation.
Resource:
leg.state.fl.us/Statutes/index.cfm?App_mode=Display_Statute&URL=0000-0099/0061/Sections/0061.13001.html