How to Approach Divorce Mediation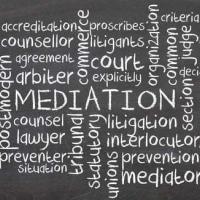 The process of divorce rarely proceeds as a couple envisions. How a couple finds the end of the road to dissolve the marriage will depend on the circumstances of the marriage, particularly the complexity of the issues that need addressing, and the amount of conflict surrounding an acceptable solution. Resolving these disputes through mutual agreement may seem insurmountable at times, and best left to a judge to settle. Getting in front a judge, though, is not so straightforward, due to large caseloads. Consequently, many courts in Florida, as a standard requirement, order divorcing couple to go through mediation before any hearing will be scheduled. Mediation is an alternative to the contentious nature of a court-driven divorce, and offers the couple an opportunity to settle their divorce privately, and with much more control over the outcome. Divorce may be the one and only time an individual participates in mediation, and the ultimate outcome of the entire process involves high stakes. Thus, it may benefit couples to fully attempt to participate in mediation, instead of doing just enough to get on the court's calendar. A discussion of several ways to approach divorce mediation will follow below, which, at the very least, will allow couples to better prepare for future court proceedings.
Optional vs. Mandatory Mediation
As mentioned above, divorce mediation is a mandatory step before a trial will be held. However, couples can choose this option, which uses a neutral and impartial facilitator called a mediator, to settle their divorce before filing a petition with the court. Mediation is a more controlled method to settle divorce and family issues through direct negotiation, and is intended to give the parties an opportunity for assistance with communication so they may more readily reach informed and mutual decisions. Importantly, mediation may still be considered a success even if some issues are left unresolved. The more items a couple can decide themselves, the better the long-term outcome against future disputes, as well as time and cost savings to resolve remaining issues with the court.
How to Approach Mediation
Mediation is not the defining moment of a divorce case, but it does offer the ability to be clear on objectives and needs, which can be instrumental for developing an effective strategy if a trial is necessary. The simplest way to approach mediation is to do nothing, and use the first few sessions to organize what issues are most pressing and gather the necessary financial information. However, doing a bit of advanced planning can make the mediator's time much more productive, and providing the following types of information can help the mediation progress more quickly:
the fair market value of all assets, e., the amount one can sell the item for;
a list of all debt balances;
a list of all assets and debts acquired during the marriage, which must be divided as marital property;
a recent credit report;
pay stubs, which are needed for child support calculations and to negotiate alimony; and
recent financial statements, e., bank accounts, credit cards, retirement accounts, etc.
For parenting issues, each party should have an idea about:
the desired time-sharing arrangement;
where the child will sleep;
work schedules for each parent;
how to handle exchanges and transportation;
whether any safety issues exist; and
who will pay for extracurricular activities, health insurance, and additional uncovered medical expenses, among other issues.
Finally, even if an agreement is reached during the first session, both spouses are better served by taking time to think about and discuss the implications of an agreement with his/her attorney before signing. Divorce settlements are no small thing, and should be given the attention they deserve.
Talk to a Florida Divorce Attorney
The decision to get divorced is rarely jumped into lightly, and the divorce process should be given the same amount of time and respect. The attorneys at All Family Law Group, P.A. understand the stresses of this event, and can guide you through different options for ending your marriage that are non-litigious, but still effective at getting what you need.  Contact the Tampa divorce attorneys and family lawyers at All Family Law Group, P.A. in Tampa Bay for a consultation at no charge. They can be reached at 813-672-1900.
by Lynette Silon-Laguna Google+
Resource:
fljud13.org/CourtPrograms/MediationDiversionServices/FamilyMediation/FAQs.aspx