How To Serve Divorce Papers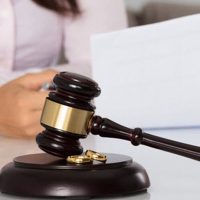 Making the decision to divorce is never easy. Once a person has made the difficult decision though, it does not end there. Florida, like every other state, has very specific procedures that must be followed when a person files for divorce. They must first fill out a petition for the dissolution of marriage and then file it with the family court in the same county in which they reside.
The third step in the divorce process is serving the other spouse with divorce papers. For many people, this is an intimidating step, as most have never had to serve someone with legal paperwork before. A Tampa Bay family lawyer can help you through the process and below, our family law attorney provides the guidelines for serving your spouse with divorce papers.
How to Serve Your Spouse with Divorce Papers
In Florida, it is not possible to serve your spouse with divorce papers yourself. Once you have filed your divorce papers with the court, the court clerk will give you a summons. A copy of the summons and the divorce petition must be served to your spouse, but you must use either a certified or special process server, or a sheriff to provide the service. If you plan to ask for alimony or child support, you must also include a copy of the financial affidavit as part of the divorce package.
When giving the divorce package to the process server, you must also provide them with information about your spouse's location. This could be their home address or their place of business. Divorce papers must be served in person, although a process server can leave them with a member of the household who is at least 15 years of age, if the individual is not at home at the time of service.
The Response
Once your spouse has been served with the divorce papers, they have 20 days to file their response. The response will address the initial complaint and within it, they can also address any issues you raised. Your spouse can also include a counter petition in their response to raise any other issues you may not have mentioned in your petition.
Within 45 days of serving the petition, each spouse must complete a financial affidavit along with any additional supporting documents. This paperwork must be filed within 45 days of filing the original petition. At minimum, the documents must be submitted several days before you and your spouse attend any type of temporary hearing.
Our Divorce Lawyers in Tampa Bay Can Help You Serve Your Spouse
If you are thinking about getting a divorce, do not be intimidated by the process. At All Family Law Group, our Tampa divorce lawyers will guide you through the process and give you the best chance of a successful outcome with your case. Call us today at 813-672-1900 or fill out our online form to schedule a free consultation and to obtain the sound legal advice you need during this difficult time. Se habla Español.
Resource:
leg.state.fl.us/statutes/index.cfm?App_mode=Display_Statute&URL=0000-0099/0061/0061.html