Is Self-Defense Legal in Florida?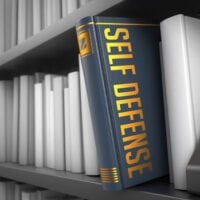 Not everyone accused of committing a violent act in Florida is guilty. Self-defense is an affirmative defense, meaning that the accused acknowledges that they engaged in violent and unlawful behavior, but that they also had good reason to do so. Under Florida law, a person may use non-deadly force or deadly force in self-defense, depending on the specific circumstances of the case. Although Florida law permits this type of defense in court, it is not always easy to prove or justify. If you have been accused of a crime after defending yourself, you should always speak to a Florida criminal defense attorney that can help.
Non-Deadly Force
According to Section 776.012 of the Florida Statutes, a person may use non-deadly force when they believe it is necessary to defend themselves against another person's use of unlawful force. When using this type of force, the person defending themselves is not required to attempt to retreat, or flee, before using the force.
Non-deadly force is typically considered legal when two or more people are in a public place or on someone else's property. When the person defending themselves is in their home or vehicle, the force they use may be greater according to the law.
Deadly Force
Under Section 776.013 of the Florida Statutes, a person may legally use deadly force if they have reason to believe that force is necessary to prevent a felony, great bodily harm to themselves, or they fear imminent death. When the person using self-defense is in their home or their vehicle, the law assumes that there is a reasonable fear of great bodily harm or imminent death if another person enters, or attempts to enter that place. This is because the law assumes the person was trying to enter the home or vehicle with the intent to commit a felony involving violence.
There are exceptions to this presumption of the law. The first is when the person entering the home or vehicle has a lawful right to enter. The second is when the person entering is a minor child or grandchild, and is in the lawful custody or guardianship of the person that defensive force is used against. When the person claiming to defend themselves is committing a crime, or using their home or vehicle to commit a crime, they also cannot use the legal claim of self-defense. Lastly, when force was used against a law enforcement officer, or the person should have known the person was part of law enforcement, the claim of self-defense also will not stand.
Were You Charged After Using Self-Defense? Call Our Florida Criminal Defense Attorneys
If you were in a position where you felt it was necessary to use self-defense and are now being charged with a crime, call our Tampa criminal defense lawyers at All Family Law Group, PA. Self-defense is a valid legal claim in Florida, but it can be very difficult to prove. We know how to prove your case and show a judge and jury that the force you used was reasonable and necessary. Call us today at (813) 672-1900 to schedule your free consultation and learn more about how we can help you beat the charges.