Vacationing with Children after Divorce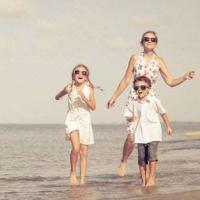 Vacations, i.e., time away from the distractions and demands of work, school, and other obligations, are important for family bonding in general, but especially crucial for parents trying to juggle the strictures of a time-sharing schedule into the mix. A child custody order must include a parenting plan that outlines how decision-making responsibilities will be made and how parenting time will be allocated, and should also include provisions specifically addressing the division of time over holidays and vacations and how to resolve any related disputes. Outlining how this time will be shared is crucial, as the parent who happens to have the child during the time off will have the ability to travel with child anywhere not specifically restricted in the custody order, without the need to consult the other parent. Further, there is also the issue of what to do with a child during his/her school holiday that may overlap with the time the parent needs to work. Both of these situations call for cooperation and communication with the other parent to guard against unnecessary disputes, and should be addressed in advance. One father is getting a head start on learning to vacation with his children post-divorce, as Donald Trump, Jr. is reported to have taken his children to Florida in the wake of his wife of 12 years filing for divorce. A discussion of how vacation time is typically handled in Florida custody orders, and considerations parents should keep in mind when exercising this option, will follow below.
Dividing Vacation Time Generally
Most Florida parenting plans give each parent two weeks of vacation time each year, and during this time, the designated parent will have uninterrupted time-sharing privileges, regardless of how this block otherwise conflicts with the normal time-sharing schedule the rest of year. This arrangement works both ways by giving each parent the same amount of time, and is ideally allocated during the time of year in which a parent has the ability to take time off and spend significant quality time with the child. While the other parent may feel short-changed during this time, he/she will receive the same amount, and will be entitled to make-up parenting time due to a trip or other activities. In addition to the number of weeks and the specific dates parents will be granted, the parenting plan also frequently mandates advance notice of vacation plans within a certain timeframe, and may also restrict where a parent may travel with the child. In addition, plans for day or overnight camps during the summer are common ways parents keep children supervised and engaged while they are at work. These plans do not necessarily need the parent's approval, as long as the activity is restricted to the parent's time with the child. If the camp infringes on the other parent's time, though, input and consent will be necessary.
Measures to Reduce Conflict
It may be easy to assume when a time-sharing schedule is first created that exercising vacation time will not be an issue, since the parenting plan spells out the rights of each parent. However, in practice, unless the parent travelling makes a substantial effort to keep the other parent in the loop, arguments are bound to occur. Consequently, the lines of communication about travel plans and any necessary changes need to be kept open. Specifically, the vacationing parent needs to keep the other parent up-to-date on the anticipated itinerary, be informed of changes as soon as possible, and how to reach the child in the event of an emergency. These communications should be reduced to writing in case a court is asked to get involved later on to settle a dispute.
Get Legal Advice
Sharing custody will never be easy, but it can be done civilly if the right measures are put in place at the beginning that reduce the likelihood of misunderstandings and disagreement. The attorneys at All Family Law Group, P.A. know the time and effort that goes into child custody matters, and can assist with amicably resolving disputes, while keeping court intervention as a possibility if necessary.  Contact the Tampa divorce attorneys and family lawyers at All Family Law Group, P.A. in Tampa Bay for a consultation at no charge. They can be reached at 813-672-1900.
by Lynette Silon-Laguna Google+
Resource:
eonline.com/news/921675/donald-trump-jr-heads-to-florida-with-his-kids-after-divorce-filing