What are 5 Tips for Divorced Parents During COVID-19?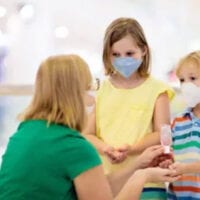 The coronavirus has been in the state of Florida since March, and the number of infections continues to increase. These unprecedented times are extremely difficult for many, and that remains true for divorced couples that have children together. COVID-19 has introduced many unique challenges for families. Fortunately, there are some tips you can follow to ensure your rights are protected, and that you do not violate your divorce orders.
Communicate
If you got divorced in Florida, there is a good chance that you were required to attend a parenting class to help you co-parent effectively once the divorce was final. Never has that been more important than now. Many people in Florida are taking the virus extremely seriously, and locking themselves down in their home as they hope for the crisis to pass. Others though, are gathering on beaches and visiting more stores and restaurants as they begin to open.
It is crucial that you speak with your former spouse about your expectations, as well as theirs, as you handle issues such as visitation together. Together, you should create a cohesive plan that is in the child's best interests and that will protect them during this time of crisis.
Continue to Meet Your Child Support Obligations
If you have been furloughed or laid off from your job, you may find it difficult to continue to pay child support. However, unless you receive a modification of the existing court order, you must continue to meet your obligations and make your payments. Although the courts may be currently closed, that will not be the case forever. If you get behind on your child support payments, your former spouse may take action and you could be held in contempt of court.
Continue Following All Timeshare Arrangements
You must also try your best to continue to meet your child custody obligations, which includes allowing your child to visit your spouse. If your former spouse does not seem concerned about the virus and you worry about your child being exposed, you must speak with a lawyer that can help you determine what next steps to take. If you simply stop allowing your child to visit with your ex, you may face contempt charges. Although claiming that you felt that your child was in danger may provide a defense, contempt charges are serious and could affect the amount of time you get to spend with your child in the future.
Contact Your Ex if Your Child Gets Sick
The worst fear for many parents during this time is that their child becomes infected with the virus. For this reason, it is especially important right now that you monitor your child for symptoms. If your child becomes sick for any reason, you must notify your former spouse immediately. If you feel as though it is an emergency situation, the court order will likely indicate the steps to take.
Speak with a Florida Family Lawyer
The coronavirus has raised a number of issues for millions of people in Florida, and around the country. If you have any family law issues at all during this time, our Tampa family law attorney at All Law Family Group, P.A. are here to help. We can advise on the steps to take if you feel that you or your child is in danger, and can help you seek whatever modifications are necessary. When you need legal help, call us today at (813) 672-1900 or contact us online to schedule a free consultation with one of our skilled attorneys.
Se habla Español.
Financing Available.