What Happens To Pets In A Florida Divorce?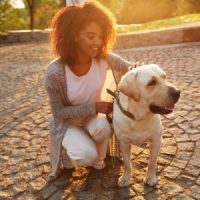 Pets are a part of the family, whether you own a dog, cat, fish, turtle, or another type of animal. Unfortunately, in a Florida divorce, pets are not considered part of the family. Rather, they are considered property. That means that when the divorce process is complete, only one spouse will own the pet and the other will not be able to see the animal. Divorcing couples can choose to agree to another arrangement, but the court will only award pets to one spouse in divorce.
How Florida's Equitable Distribution Laws Apply to Pets
Florida follows equitable distribution laws when it comes to property division, which means property is divided fairly, although not necessarily equally. When the case is taken to court, the outcome will depend heavily on the facts of your case. While the best interests of the pet are not taken into consideration in the same way as when child custody decisions are being made, the court will consider several factors when making a decision on which party can keep the pets. These factors include:
Which party spent the most time and effort caring for the pet?
Which party took the pet to vet appointments and otherwise tended to its needs?
Which party is financially capable of caring for the pet?
Which party is in the best health to care for the pet?
What is the value of the pet?
Judges will sometimes make decisions about pets quite quickly during a divorce case, and they will not consider things such as which party has the strongest emotional bond with the pet. Due to this, decisions regarding pets are typically best made outside of the courtroom.
Reaching an Agreement About Pets
Just like nearly every decision made during the divorce process, couples can also reach an agreement on their own about how to treat the pets. This may include agreeing to options similar to child custody, with the parties dividing their time with the pet. Reaching an agreement is very beneficial, as it allows for the customized solutions issues involving pets typically involve.
When the two parties cannot reach an agreement on their own, mediation is often helpful. In Florida, mediation is mandatory for divorcing couples anyway, so if you own a pet, you should raise the issue during these sessions. The mediator is a neutral third party that will foster compromise and communication about the issue and help you reach an agreement with your spouse.
Our Divorce Lawyers in Tampa Bay Can Help with Your Unique Issues
Pets are a very unique issue in Florida divorces, and disputes are very common. However, a dispute involving pets is just one of the complex factors that may arise during your divorce. At All Family Law Group, P.A., our Tampa divorce lawyers can help you through any issue in your divorce case and will ensure your rights are protected at all times. Call us today at 813-672-1900 or fill out our online form to schedule a free consultation. Se habla Español.