What Is A Divorce Settlement Agreement?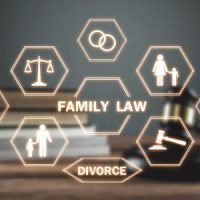 The divorce rates in Florida and throughout the rest of the country are staggering. While no one gets married with the intention of getting a divorce, it happens quite often. For this reason, it is important that everyone is familiar with the process, particularly if they are already married and considering divorce. One aspect people should be familiar with is the marital settlement agreement, also known as a settlement agreement or a divorce settlement agreement.
A marital settlement agreement will outline all the terms of the divorce once the two parties agree to all terms. These terms may include property division, alimony, child custody, and child support.
Property Division
The marital settlement agreement will first outline a full list of marital property, which includes assets and liabilities acquired together during the marriage. The settlement agreement will also outline the division of property and which spouse will receive certain property after the divorce. Anything from the marital home to bank accounts to investments and even jewelry can be included in a settlement agreement. Florida is an equitable distribution state, which means marital property is not always divided equally, but it is divided fairly.
Child Custody
When a couple has children together and are getting a divorce, the settlement agreement will outline many items related to the custody and care of the children. The settlement agreement will detail which party will pay for child support, the amount of support to be paid, and a time sharing plan for child custody. Other factors that will affect the children include college tuition, health insurance, and how decisions will be jointly made regarding the child's health and wellbeing.
Child Support
When a married couple with children divorces, one parent is sometimes ordered to pay child support to the other. The marital settlement agreement will outline which parent is to pay child support, and the amount they are expected to pay. The amount of child support a person must pay is determined using a formula that all family courts in Florida use when calculating support.
Spousal Support
A marital settlement agreement will also include stipulations for alimony and other types of spousal support. The agreement will outline whether the support is temporary or permanent, and when the alimony will end. The agreement may also contain provisions for other types of spousal support, such as a life insurance policy that provides for the payment of alimony in the event the spouse paying the support passes away.
Our Divorce Lawyers in Tampa Bay Can Help with Your Settlement
If you are considering divorce, it is important to work with a knowledgeable and skilled Tampa divorce lawyer so you secure the settlement you deserve. At All Family Law Group, P.A., we are dedicated to protecting the best interests of our clients, and we will put our experience to work for you, too. Call us today at 813-672-1900 or fill out our online form to schedule a free consultation with one of our attorneys and to learn more about how we can help with your case.  Se habla Español.