What to do Financially in a Florida Divorce?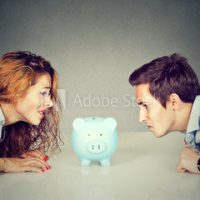 Although no one plans on getting divorced, life happens. Between understanding laws, assessing your finances, getting professional help, building toward a secure financial future, and considering all the parties involved, it can get financially messy. If you find yourself needing guidance through your divorce, follow these steps to cover your bases and protect your finances.
Assess Your Finances
Financially speaking divorces can be tricky. The first step before and after filing is to consider the circumstances of your financial situation. This involves managing debt, loans, credit cards, or investment and retirement accounts you may have that will need to be divided when the marriage is dissolved.
Noteworthy Questions to Ask Yourself
What shared property do you have, and how will it be split? Depending on the state you live in, there may be community property rules which require you to split the assets 50/50. However, if you are in an equitable distribution state, there is a chance it may not be distributed equally.  Florida is an equitable distribution state; however, in many ways it is similar to a community property state.
What shared debts do you have or debts you or your spouse have incurred during the marriage? This is important when determining how they will be divided.
Filing for a contested or uncontested divorce? A contested divorce is when the court will divide the properties and assets.  While an uncontested divorce allows you to have more control over the assets and will ultimately make the divorce less expensive.
How will you pay for legal fees? Depending on certain circumstances, one spouse may have to pay for the other spouse's attorney's legal fees.
Did you sign a prenup? If there is a premarital agreement, this might override state law and determine how marital assets will be divided.
Ideally, you and your spouse will handle the finances respectfully, especially if there are children involved. If it does become blurry, you may need to have the court step in, so you can be assured your rights are being protected.
Seek Professional Guidance
There's no doubt that you may be feeling overwhelmed, especially when finances are involved. Leaning on your friends and family for advice is a great way to ease your mind, but it's important to seek professional guidance as well. Attending mediation during your divorce is recommended because a family law mediator can offer you a safe environment for a speedy, and cost-effective resolution. A mediator cannot give legal advice even if he or she is an attorney.  Therefore, it is best to have an attorney attend the mediation with you to look out for your best interests. You might also want to consider seeing a therapist to help process and validate your feelings. The convenience of having a professional to rely on for help is crucial when you're trying to navigate a divorce.
Secure Your Finances
Before and after the divorce is finalized, it's crucial to get your finances organized. The first step is to consider creating a budget. Now that you solely rely on a single income, money might be tight. Within your budget, you should have weekly and monthly expenses you need to prioritize, such as groceries and other essentials. Do not forget to start contributing to a savings or retirement fund, so you can secure your future financially.
If you do not purchase a home after the divorce, you will need to find one to purchase within your budget. You might be asking yourself, how much can I afford to spend on a house? Buying a house can be a huge undertaking, and it's easy to get wrapped up in the excitement of a fresh start in a new place. You want to hunt for homes that are within your budget and be realistic when it comes to what you can afford. To find out what your price range may be, enter your location, monthly debts, yearly income, and how much money you have for closing costs and down payment into a mortgage calculator. Once you have a price range in mind, you then can create a wish list of characteristics you desire in your new home.
Take Care of Your Children
If you have children from your marriage, a divorce can be a very difficult time for them. It's imperative that you both come to an agreement on how to share custody and have a child support plan. The factors considered in child support are groceries, clothing, school, and any additional costs such as extracurricular activities. If you can't come to an agreement on custody and financial support, then a court order may be needed.  In Florida, child support is calculated using a Florida Child Support Guideline form, although the court will likely approve child support which deviates from the Guidelines if the parties are agreeable.
It's also critical that you consider and validate your children's feelings throughout the divorce. Letting them know that their voice is being heard will help ease the process for them. As mentioned earlier, a therapist might also be a great resource for them to share their feelings and concerns with. A professional is beneficial to help them open up during difficult times, especially if they're being closed off to you and your spouse. Family is the most important thing, and even though it may not be the same, you need to assure them that they'll continue to be loved and cared for.
The bottom line is divorce can get messy and emotionally draining, but by getting professional help, organizing your finances before and after the divorce, and keeping a positive attitude, you can come out of it with a fresh start.
Do you need an experienced Tampa Divorce Lawyer?
Are you considering a divorce or have you already started the process?  If so, our Tampa divorce lawyers at All Family Law Group, P.A. can help. We will advise on every aspect of your case financially and otherwise, including how you can keep the costs down so your new start in life is as easy as possible. Call us now at 813-672-1900 or reach out to us online to request a free consultation with one of our knowledgeable divorce attorneys and to learn more about your legal options.  Se habla Español.