Will Mediation Work In My Florida Divorce?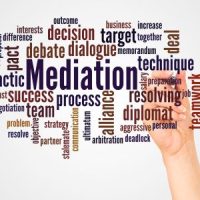 If you are thinking about divorcing your spouse, you may envision a long, costly, and stressful courtroom battle. Fortunately, while litigation is sometimes necessary to resolve the terms of divorce, this is not usually the case. Mediation is an option that is becoming more popular today.
During mediation, two spouses meet with a third party mediator, who remains neutral and objective throughout the process. Mediation has many benefits, including reducing the cost and stress of the divorce process. Unfortunately, mediation does not work for everyone. Below, our Tampa mediation attorney explains when it may not be the right fit.
Things Have Become Very Contentious Between You and Your Spouse
Mediators try to foster communication and compromise between the two divorcing spouses. In order for it to work, you and your spouse must both be willing to negotiate on the terms of your divorce. If things have already become very heated between you and your spouse, you may find it difficult to remain respectful. This is particularly true if your spouse continues to be unreasonable. If you and your spouse cannot remain civil with each other, there is little chance that mediation will work.
You Want a Fast Divorce
Resolving the disputes involved in your divorce case in the courtroom is the longest way to get a divorce. Litigation can take anywhere between six months to one year, or even longer. Mediation is a much quicker process. Typically, mediation usually only takes approximately two to five months. While mediation may still technically work if you want to speed up the process, there is an even faster way to get divorced.
Florida law imposes a 20-day waiting period before a divorce case can be finalized. If you can agree to all of the terms with your spouse on your own, you can get an uncontested divorce. Uncontested divorce is also ruled by the waiting period, but you can reach an agreement within that time and finalize the case 20 days after filing the papers with the court. This is not really practical as the finalization of any divorce requires a final hearing before the judge, although now they are usually completed via Zoom.  Scheduling the final hearing will depend on how quickly you can schedule it on the judge's calendar.
The Case Involves Domestic Violence
If you are a victim of domestic violence, there is little chance that mediation will work. When there is a history of domestic violence between a couple, the abuser is usually in a place of authority over the victim. Victims are often also unable to effectively advocate for themselves, which is essential during mediation. For mediation to work, you and your spouse must start from an equal position. Due to the fact that domestic violence prevents this from happening, mediation likely will not work.
Our Mediation Divorce & Family Attorney in Tampa Can Advise On Your Case
If you are getting a divorce and believe mediation may be right for you, it is important to work with a divorce and family law attorney who has the necessary experience with the process. At All Family Law Group, P.A., our Tampa mediation attorney can provide the sound legal representation you need so you have the best chance of success during mediation sessions. Call us now at 813-672-1900 or contact us online to schedule a free consultation.  Se habla Español.
Sources:
leg.state.fl.us/statutes/index.cfm?App_mode=Display_Statute&URL=0000-0099/0061/0061.html
leg.state.fl.us/Statutes/index.cfm?App_mode=Display_Statute&URL=0000-0099/0044/0044.html