Who Leaves The House In a Florida Divorce?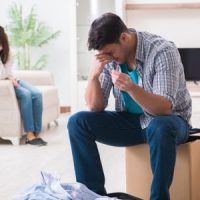 Regardless of the circumstances surrounding it, divorce is always an extremely stressful process. You may not want to continue living in the same home as your spouse, and you may be considering leaving, or asking them to. Whether or not you or your spouse decides to leave the home is largely up to you. However, it is important to know how it may affect your case.
You Do Not Need a Court Order to Leave the Home
If either spouse wants to leave the home before or during the divorce process, they do not require a court order to do it. You and your spouse can reach an agreement on your own about who will leave and who will stay. Regardless of which spouse leaves the home, they still have legal rights to it and any of the equity it has accumulated. The spouse who stays in the home cannot change the locks or lock the other spouse out of the home.
Exclusive Use and Possession
In some cases, it is not a good idea for both spouses to continue living together during the divorce process. For example, if the marriage ended because of domestic violence, victims may be in real danger if they continue to live with their abuser. In these cases, the victim may petition the court to issue an exclusive use and possession order.
Exclusive use and possession orders allow one spouse to remain in the home while prohibiting the other party from entering or using the home. Although the spouse that has to leave cannot use the home, they still have legal rights to it until a final order is issued.
How Will Moving Out Affect a Divorce Case?
While either spouse can move out of the home voluntarily, it may affect certain terms of the divorce once they are made final. If there are children living in the home, moving out may make it seem as though you are giving your spouse child custody. Leaving the children with your spouse may show that they are the primary caregiver, and that you believe keeping them with your spouse is in the best interest of the children. This could result in a judge awarding your spouse the majority of parental responsibilities and parenting time.
If moving out of the home affects child custody decisions, it can also have an impact on child support. If you are not awarded child custody, a judge may also order you to pay child support. Child support orders are very common when one parent spends the majority of the time with the child and therefore, incurs more expenses for their care.
Call Our Divorce Lawyers in Tampa Before Moving Out of the Home
Whether or not you or your spouse moves out of the family home is a personal decision, but it is also a legal one. If you think moving out of the home is the best option for you, it is important to speak to a Tampa divorce lawyer before you take any action. At All Family Law Group, P.A., our experienced attorney will review the facts of your case, outline your options, and help you decide which one is best for you. Call us now at 813-672-1900 or contact us online to schedule a free consultation.  Se habla Español.
Sources:
leg.state.fl.us/statutes/index.cfm?App_mode=Display_Statute&URL=0000-0099/0061/0061.html
leg.state.fl.us/statutes/index.cfm?App_mode=Display_Statute&URL=0000-0099/0061/Sections/0061.13.html