How Much Does Divorce Cost in Florida?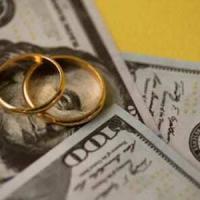 You will have many feelings when going through a divorce. You may be angry, frustrated, sad, and if starting the process has been inevitable for some time, maybe even a little relieved. Along with these feelings, you will also have many thoughts running through your mind, one of which may be how much the divorce is going to cost you. Some people try to put off divorce solely due to the cost, even if they are unhappy, while others do not even think about it until they receive a bill from their attorney. So, how much does divorce cost in Florida?
Uncontested Divorce
The most affordable way to get divorced in Florida is to get an uncontested divorce. To obtain an uncontested divorce, you and your spouse must agree to every term of your divorce, including property division, child custody, and child support. If there is even one term you disagree on, you will have to get a contested divorce.
The procedure for getting an uncontested divorce is quite simple and can even be done online without a requirement for a court appearance. Depending on the attorney's fees and whether there are children involved, the cost for an uncontested divorce ranges between $495 and $795.
The Cost of a Contested Divorce
The cost of a contested divorce, or one in which you and your spouse cannot agree to certain terms, is difficult to estimate. Attorneys typically charge by the hour, and they will all have different rates depending on experience and other factors. The cost of a contested divorce in Florida typically ranges from $4,000 to $30,000. However, the cost of a contested divorce is still largely up to you and your spouse.
If you can come to an agreement on terms rather quickly, even if you began the process in disagreement, the divorce will take less time and so, will also cost less. On the other hand, if the two of you spend many afternoons in attorneys' offices fighting over the terms of the divorce, it will become more costly.
Other factors will also affect how costly a contested divorce is. If there is substantial property and debt that must be divided, property division matters will take longer and therefore be more expensive. If expert witnesses are needed to testify, this will also add to the cost of the divorce. Sometimes, these experts are needed to testify about what is best for the child, accountants are required to help sort out complicated financial issues, or other experts are needed to provide a professional opinion on certain terms of the divorce.
Going to Trial
Going through litigation to get the divorce finalized is by far the most expensive way to get a divorce in Florida. You will not only incur more attorney's fees, but also court costs. You are also at the mercy of the court's schedule, which could drag out the process even longer, and end up costing more.
During the trial, the judge will make the final decision on all terms of the divorce. If you do not agree to these terms, you can appeal the decision. However, that will ultimately incur additional costs and make your divorce even more expensive.
Call Our Florida Divorce Lawyers for Help With Your Divorce
There are many factors that will affect the cost of your divorce, and the Tampa divorce lawyer you choose is one of them. At All Family Law Group, P.A., we have the necessary experience to negotiate effectively and bring both sides to an agreement as soon as possible. This not only helps you keep costs down, but also allows you to move on with your new life even sooner. If you are going through a divorce, call us today at (813) 672-1900 to schedule your free consultation and to learn about our financing options that can help when paying for the cost of your divorce.