How Will Adultery Affect a Divorce?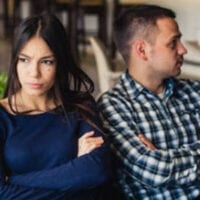 Studies have shown that adultery is the cause of approximately 20 to 40 percent of all divorces in the United States. If you or your spouse has been unfaithful and it has resulted in the end of your marriage, you are likely wondering how the infidelity will affect your divorce proceedings. Florida is a no-fault divorce state, which means when one spouse files for divorce, they do not have to allege, nor prove, that the other spouse was to blame for the breakdown of the marital relationship. Still, even though neither spouse has to prove fault, there are many ways in which adultery will affect a divorce.
Alimony
Alimony is awarded in a divorce when a judge finds that one spouse requires financial support and the other spouse has the ability to pay it. Once this initial decision has been made, a judge will have a lot of discretion when determining the amount of alimony to be paid. The Florida statute for alimony specifically states that a judge may take adultery into consideration when determining the amount.
However, a judge will likely only award more in alimony due to adultery if the spouse that committed it spent marital funds on the affair. For example, if one spouse repeatedly went on luxurious vacations with the person they were having an affair with, a judge would likely award much more in alimony than if an affair never happened.
Property Division
Just as an affair will affect the amount of alimony one spouse receives, it could also affect the amount of assets a person receives during property division hearings. Many people think that if they had an affair during marriage, they will lose everything during the divorce. This is not true. Still, a judge will determine if marital funds were spent on the affair. If so, they will likely award the wronged spouse more in assets to compensate for the amount of marital funds they did not have access to.
Child Custody
When making a decision on child custody decisions, a judge will consider a number of factors. All of these factors relate to what is in the best interests of the child. It is true that infidelity is not listed as one of the factors for consideration, but the moral character of each parent is considered. An affair could indicate that one parent is not of good moral character.
Still, infidelity will not always mean that a parent will lose custody. Generally speaking, adultery will only hurt a parent in custody hearings if their actions hurt the child. For example, if the affair exposed the child to behavior that is not deemed appropriate, it may play a role in a child custody case.
Our Florida Family Lawyers can Help with Your Case
It is true that infidelity will not always affect the outcome of a divorce case, but in some cases, it may. If you and your spouse are getting a divorce and adultery is involved, our Tampa family lawyers at All Family Law Group, P.A., can help. Our experienced attorneys know how to fight for your rights and help you secure the most positive outcome possible. Call us today at (813) 672-1900 or contact us online to schedule a free consultation with one of our skilled attorneys.